What is the Difference Between a Private Label and a Private Brand?
With tequila on an all time high in terms of popularity, it's no wonder more and more sports stars, musicians, celebrities, and corporate clients are developing their own presence on the shelves. Think Dwayne "The Rock" Johnson, Rita Ora Kendall Jenner, George Clooney, or P Diddy – they all have their own unique tequila brands.
Tequila is a gift to marketers, redolent of celebration, with a risqué edge, it attracts a young, affluent crowd. It's simply the coolest of all the spirits, and this cachet shows no signs of abating.
Now you too can have your own tequila brand – and you won't need to buy a distillery to do it.
At Aceves we offer two ways to bring your own premium Tequila product to market. We call these our Private Labels and Private Brands. Both these options improve upon the concept of white labeling, taking spirit branding to the next level. Rather than creating a generic product relabeled, each of our private label and private brand tequilas is unique to each client.
So, what's the difference between private label and private brand?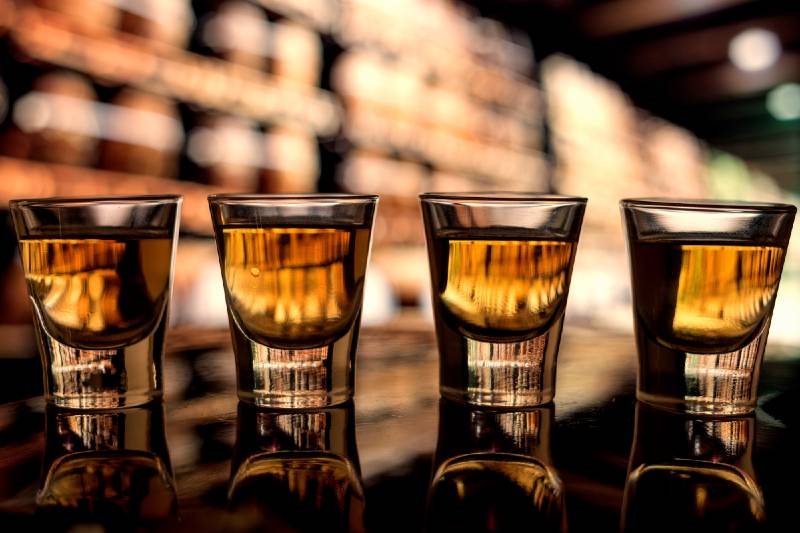 If you have a limited promotional run or want to quickly bring a new tequila offering to the public, our private label service presents a fantastic opportunity. Guarantee a minimum order quantity (MOQ) of just 6000 bottles (or as many as you like) and we'll make a unique blend from one of our top-selling premium blue agave tequilas, just for you.
Tweak a key aspect of the flavor profile, under our guidance, and we'll create a unique variant ready to distil, bottle, package and ship under your brand's name and label.
We'll advise you every step of the way. We are a long-established family business producing award-winning blanco, reposado, añejo, extra añejo, and cristalino tequilas, mezcals, and flavored tequilas. From our Jalisco Highlands base, we curate and craft drinks of real distinction, using skills learned over three generations.
You can become a part of that heritage, with your premium, private label tequila.
We recommend a starting budget of USD $100K for 6000 bottles, which includes:
· Commercial advise
· Legal Process
· Profile Design
· Developing process
· Suppliers Selection
· Quality Testing and Guarantee
We pride ourselves on attention to detail. At Aceves, we insist every creation attains the highest standard of flavor and design. Check out some of our clients' tequilas or read more about the process here.
Whether it's a blanco, reposado, añejo, cristalino, flavored tequila, or mezcal, we've made them all and every one of them has been awarded. With our private brand offering, you can create a truly unique tequila brand, alongside our expert tequileros, from the literal ground up.
With a private tequila brand, you can tailor every aspect of the drink, including:
Agave variant selection – type and proportion of plant
Agave cooking method – how the agave is treated prior to distillation
Distillation process – define the perfect distillation process
Yeast selection – the magic ingredient that aids fermentation
Barrel choice – wood choice, prior spirit use, it all contributes
Ageing – how long you mature the spirit prior to bottling
Taste Notes – define the precise mouthfeel, nose, taste, and finish
With literally billions of combinations of these seven components, we can ensure that your tequila is truly unique. Our experienced team will guide you though every stage of the process, making sure that nothing is forgotten, and that you are 100% satisfied with the finished product.
We'll work with you to create a new prestige brand which perfectly suits your purposes, reflecting the values and personality you'd like to inject. You can even choose a customized bottle, so that your tequila looks like no other.
Our private brand process involves you in every stage from the farm to the bottle. For this bespoke service, we have an MOQ of 36,000 bottles, which will require initial investment of around USD $500,000. Find out more about our bespoke tequila creation process here.
The Benefits of Private Labels and Private Brands
We all appreciate that supermarket own brand products are manufactured by someone else and then relabeled for sale through your local outlet. There's nothing unique or special about white labelling in this way. Rather than a marker of quality, such brands are an indicator of convenience or good value. As such, white labeling is not well-suited to producing bespoke, premium products.
We believe that brands and labels should mean something – when you buy a new tequila, particularly one with a premium price tag, it really should have a unique flavor profile. Each private tequila label or brand should embody the values of the client and excite tequila connoisseurs. We want to see our client's products highlighted in the press and winning awards.
That's what private labels and private brands offer – a drink that captures the imagination. One that tastes and looks like no other. A creation you can own and market as a signature premium tequila. We'll never produce that product for anyone else.
The business case is encouraging too – with the premium tequila market boasting an annual predicted CAGR in 2022- 2029 of 5.58%, according to Fortune Business Insights.
Which Option is Right for Your Brand?
To help you decide which option to choose, here's a quick reminder of what each service gives you:
|   | PRIVATE LABEL TEQUILA | PRIVATE TEQUILA BRAND |
| --- | --- | --- |
| Taste Profile | Change one or two key components | Design an entirely bespoke product from scratch |
| Lead Time | 6 months | 6 to 12 months |
| Team Support | Guidance throughout the process | Collaboration throughout the process |
| Bottling & Packaging | Choose from a range of options | Use a unique custom bottle and packaging |
| MOQ | 6,000 bottles | 36,000 bottles |
| Estimated Budget | USD $100,000 | 36,000 bottles |
We're always open to discussing your options and collaborating on brand new ideas.
Submit Your Project with Aceves Spirits Today.